"Over The Past 10 Years, This Award-winning Program Has Been Helping Passionate People Like You Launch Businesses In Every Field You Can Think Of ... From Coffee To Astronomy!!"
Watch this video for full details
Did you know that 90.2% of our graduates reported enjoying

MORE FREEDOM


in their lives as a result of joining this program?

They also reported the following:

- 97.5% increase in purpose & motivation.

- 82.9% increase in happiness & fulfillment.

- 73.2% increase in confidence & self-belief.

- 58.5% increase in income & financial comfort.

ENROLL NOW
If you want to start a passion-driven business, HERE ARE
11 Reasons Why You Should Join:
Passion To Profit®
Accelerator Program
Learn an award-winning system to become a successful, passion-driven entrepreneur:
Since 2012, we have been helping thousands of people find their passion and turn it into a profitable business.


We celebrate a new success story every week, making it one of the most successful startup accelerators in the world.


Gold Stevie® Award winner for Innovation in Living, Learning and Working Environments in Middle East & North Africa (MENA).


Bronze Stevie® Award winner for Innovation in Education and Training Websites in MENA.


Bronze Stevie® Award winner for Most Valuable Services in MENA.


Mohamed Tohami is a Stevie® Award winner for Best Business Influencer of The Year in the Middle East & North Africa.


International Stevie® Award winner for Best Entrepreneur of The Year in Business & Professional Services.


International Stevie® Award winner for Achievement In Thought Leadership.


World-class mentorship and support along your journey till your business is up and running.


Endorsed by the world's top entrepreneurship experts including the legendary Michael E. Gerber, author of the all time bestseller, The E-Myth. Inc. Magazine calls him "The World's #1 Small Business Guru".


We have one of the most positive & supportive communities of over 4500 passionate members.
Yes, It Really Is Possible!
Now you can start your entrepreneurial journey with a global, multi-award-winning organization and connect with an amazing community of passionate entrepreneurs.
ENROLL NOW
In The Next 6 Months, You Could…
Have a profitable business doing what you love
Be improving other people's lives with your business
The right startup moves can make all the difference. We'll cover it all in Passion To Profit® Accelerator Program.
INTRODUCING
Passion To Profit®
Accelerator Program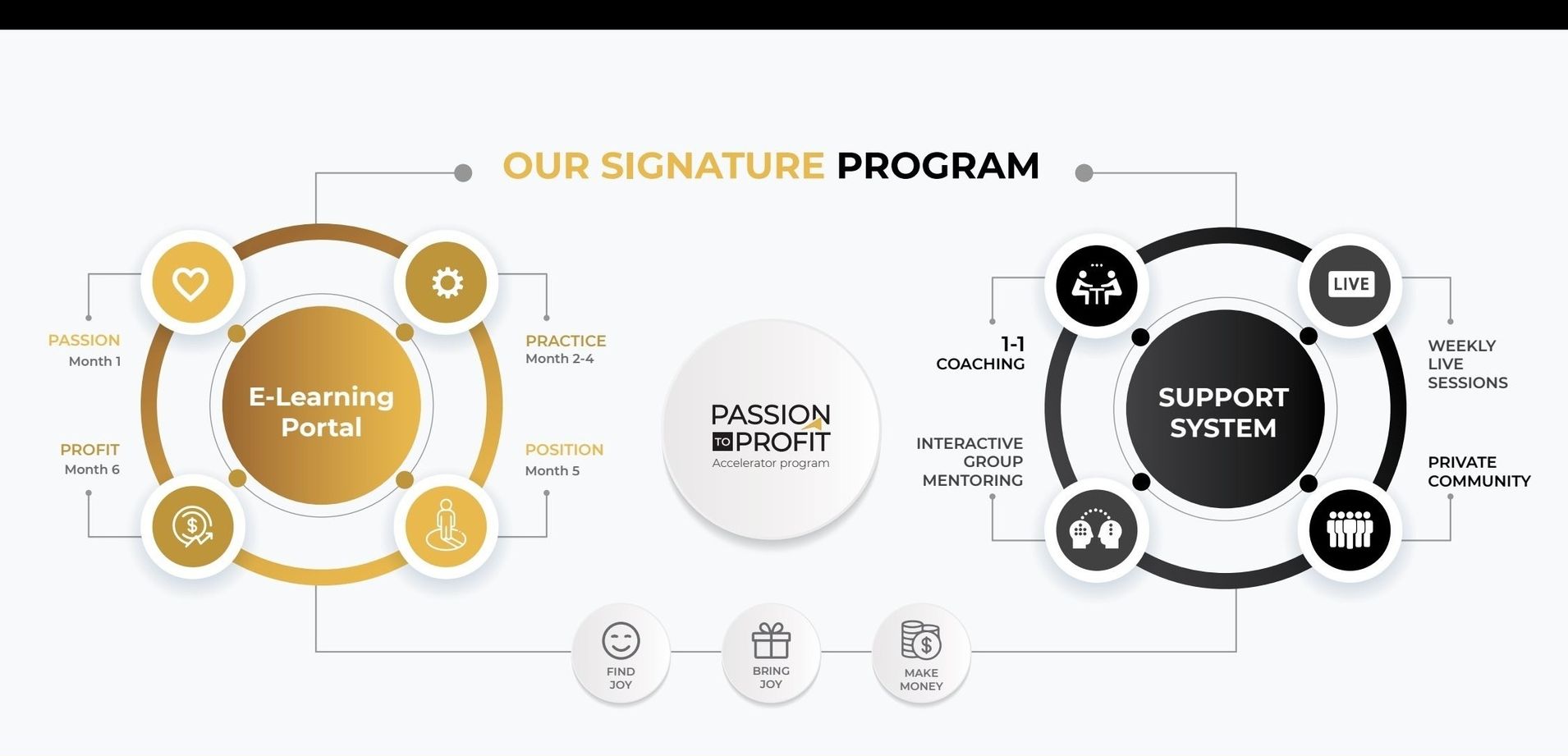 Are You Ready To Start Your Own Passion-Driven Business?
This 6-month accelerator program will teach you everything you need to know to find your passion and turn it into a successful business. You'll learn how to:


Find your dominant passion using the Passion Menu Method®.



Connect with influential people in your field for mentorship and support.



Explore the market to uncover winning business ideas using a 30-min per day action list.



Differentiate your business and win over your competition using the Positioning Matrix®.



Start a profitable business with little money using The Minimal Business Formula®



Create your most powerful sales & marketing tool by writing your unique brand story and launching the winning Story Ad® marketing campaign.



Create an attractive product/service and price it correctly to easily attract the right customers.



Save tons of money by learning how to create your own brand identity and website.



Build a marketing system that generates a consistent flow of customers using tested and proven marketing campaigns.



... and much much ... much more!!
With a simple shift in your mindset and some smart startup practices, you could start living the life of your dreams.
By the end of this program, you'll actually have your business up and running, without having to quit your day job yet.
What's Included In The Accelerator Program ...
Feature 1
E-Learning Portal
Lifetime access to our e-learning portal that provides you with a guided plan and step-by-step video instructions to start your passion-driven business in less than 6 months.
FEATURE 2
Live Zoom Sessions
Weekly live zoom session with Tohami where he invites an inspiring story who successfully graduated from the program to share his/her journey with you.
FEATURE 3
Group Mentoring Sessions
Three online group mentoring sessions every week with a Passion Point certified mentor to answer your questions, monitor your progress, and accelerate your results.
FEATURE 4
Access Our Private Community
Access to our private Facebook group of 4,500+ passionate members where you can expand your network and get all the support your need throughout your journey.
This Program Is For You If...
You are bored or burned out from your corporate job
You believe you have the potential to achieve much more
You want to start a business doing what you love ... with low risk
You dream of living a more meaningful life
You want to leave a legacy for your children
YES, I WANT IN!
NICE TO MEET YOU
About Mohamed Tohami
Tohami is an award-winning entrepreneur, #1 Amazon bestselling author, and Stevie® winner for the best business influencer of the year, Entrepreneur of the Year 2022, and Achievement in Thought Leadership.
He is a member of the elite Entrepreneur Leadership Network, an exclusive program where selected industry experts provide business advice to millions of Entrepreneur.com readers.
He was named #1 Startups Thought Leader by Thinkers360, the world's first open platform for thought leaders & influencers.
Tohami is the founder of three companies ...
Passion Point, helping unfulfilled employees start and grow their own passion-driven businesses.
Chess Your Child, Egypt's #1 academy for teaching kids chess as a character-building tool.
And 30YRS, a disruptive digital advertising agency that specializes in creating Facebook ads that sell.
Tohami is a mentor at the Founder Institute, the world's largest tech-startup accelerator, with chapters in over 200 cities and across the globe.
He is also part of a global community of judges who support Africa's Business Heroes (ABH) to identify and empower emerging African entrepreneurs.
And he is a member of the Entrepreneurship & Innovation Committee at the American Chamber of Commerce in Egypt.
Tohami is a blessed father of 3 kids and a black-belt Aikido practitioner :-)
"Stunning System"
What Experts Say
MEET OUR LEGENDS!
This Is Just A Small Sample Of Our Brilliant Success Stories
GET STARTED TODAY!
Passion To Profit®
Accelerator Program
Frequently Asked Questions
What if I don't know my passion?
How much money do I need to start a business?
What if I don't have a business idea?
Can I start after 40 or is it too late?
Is this the right time to start a business?
I am not good at marketing, will you help me?
Have questions?

Call us at:
(002) 01092200129
Working hours:
11 AM - 5 PM
Sunday - Thursday
Or